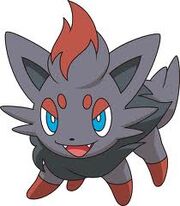 Zorua is a fox-like Pokémon, mainly slate-gray in coloration with red and black accents on its head and feet. Zorua's ears are triangular with dark insides, and it has a large, whorled scruff of fur on its head, tipped with red coloration. Its eyes appear to possess no pupils, and its eyelids and circular "eyebrow" markings are red. Zorua possesses a ruff of black fur around its neck, and limbs tipped with red. Its tail is bushy, and when it opens its mouth small fangs can be seen developing.
Community content is available under
CC-BY-SA
unless otherwise noted.