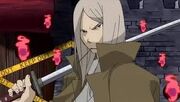 Mifune (ミフネ

?

)

Voiced by: Kenjirō Tsuda (Japanese), Robert McCollum (English)[citation needed]
A master samurai, who quits as the bodyguard of a mafia family after saving Angela Leon (アンジェラ・レオンAnjera Reon

?

) (Voiced by: Ayaka Saitō (Japanese), Majken Bullard (English)), a young witch that they captured. He uses the Infinite One-Sword Style (無限一刀流Mugen Ittōryū

?

), which allows him to utilize a number of swords scattered around the battlefield. He generally carries around one or two large scabbards filled with katana and wrapped with caution tape saying "Keep Out." He is able to precisely launch the swords out of the scabbard and often wraps the area with the tape. He can use swords as platforms, swing multiple swords at once, instantly discard one to pick up another, and his strongest ability allows him to cause a number of swords to float around his body. He is very fond of children, even liking the possibility of becoming a teacher, and he constantly carries around chocolate candy. He forms a rivalry with Black Star and he joins Arachnophobia to keep Angela safe. In the anime, he has a battle with Black Star, then quits Arachnophobia to help Black Star. In the manga, however, he is killed in his final battle with Black Star.
Community content is available under
CC-BY-SA
unless otherwise noted.